Vikas Dhar had a big problem: ROI from the large legal marketing agency he hired was dwindling, and his law firm was feeling the effects. Updating the website became increasingly difficult and time-consuming resulting in reduced leads. To make matters worse, he was tied to a lengthy binding contract and the expense was outweighing the results. He wanted to ensure that his law firm web design was in capable hands.
---
Roles
Design, Development
Website
---
Vikas needed to turn his website into a client-converting machine. He started by commissioning the SEO experts at Qlegal to address the deficiencies in lead-generation. It was decided early on that redesigning the website would be essential in taking their lead generation to the next level. The fine folks over at Qlegal brought me onboard to execute the design and development of the new web presence. They can rely on me to quickly come up to speed with all the particulars. The team was formed and we were off!
Site Map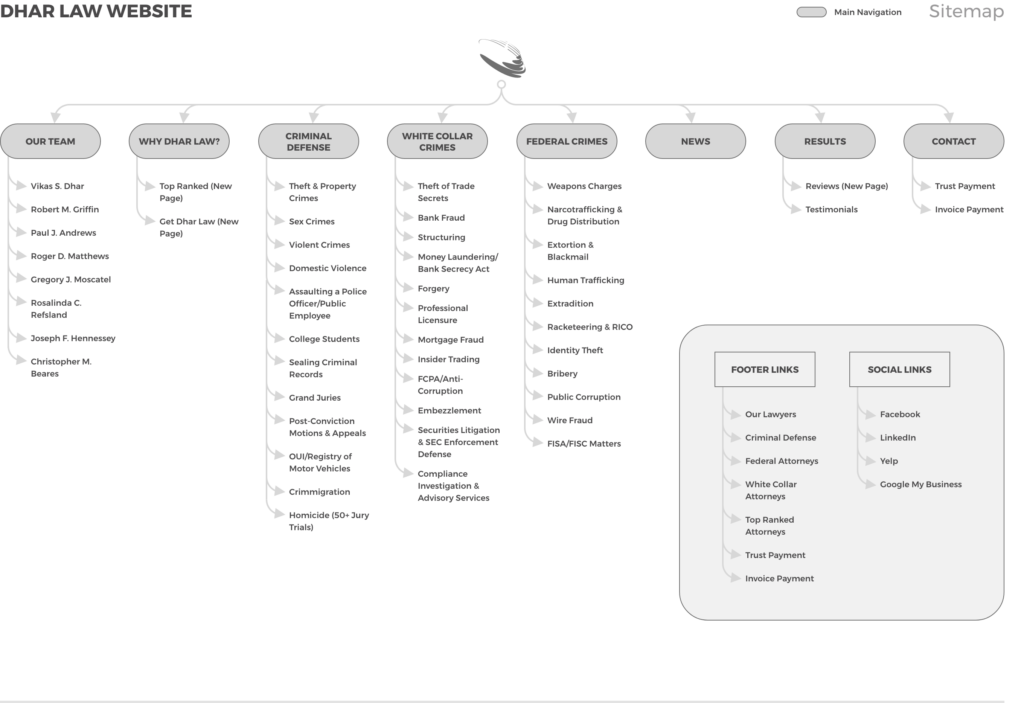 A few key concepts came to light during the initial discovery phase. Not only was the site's design outdated, it didn't properly represent the firm's brand identity. While most criminal defense firms want to present themselves as the bulldog in the courtroom, Vikas' keen sense of humor and easy-going nature contrast that by comparison. Dhar Law wanted to position themselves as "the firm that you call if you get into trouble for the first time – your guide during the darkness". All good firms should be a reflection of their leadership and a company's website is no different.
Wireframes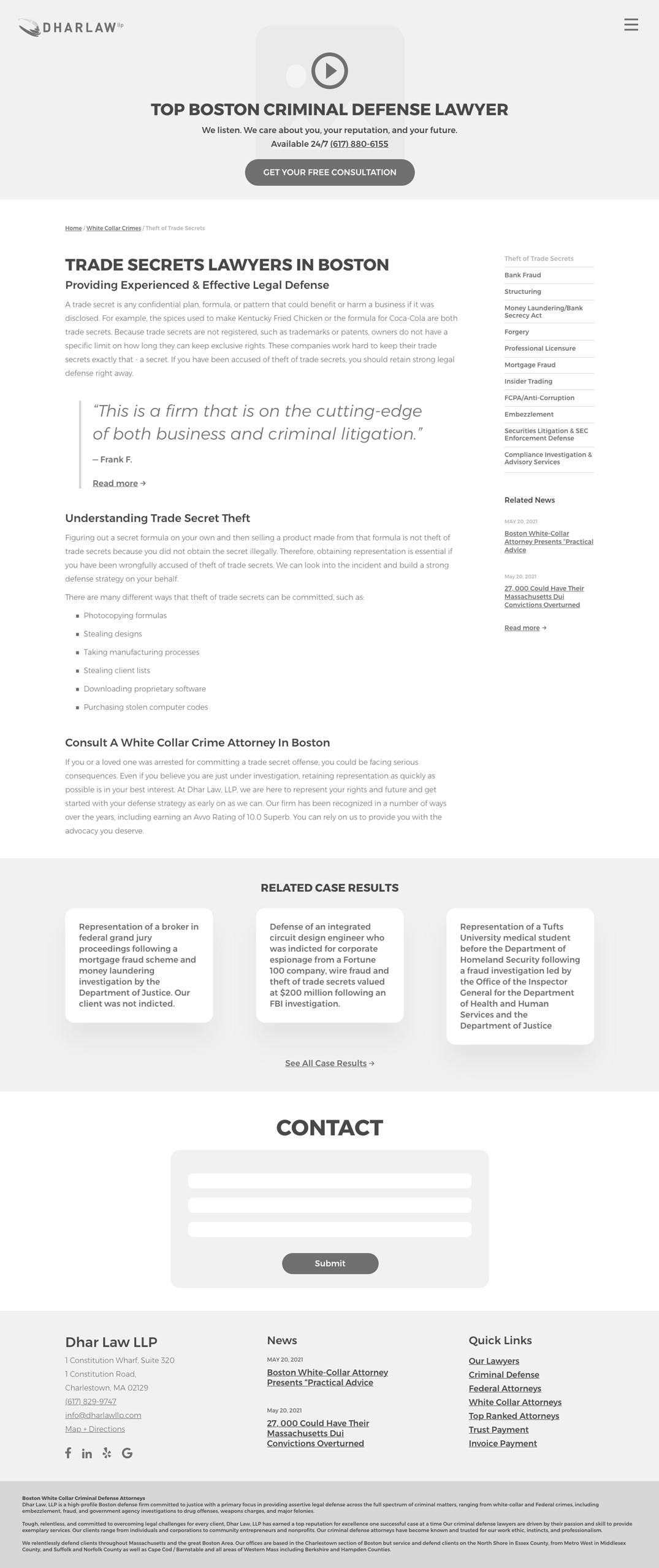 We wanted visitors to feel relaxed and comfortable while keeping them engaged. The content on the homepage was quite dense and intimidating so cleaning up the layout and the content was the first task. We also felt that color would play a big role in transforming the mood. Violet is associated with light-hearted, romantic energies. So we kept this characteristic from the previous design and complimented it with other pleasing colors. We explored the use of subtle animation to engage users and set ambiance. We would also leverage a marketing video that was being produced simultaneously.
For me as a designer, this is the fun part. Through lively discussion, we're collecting ammunition to execute a well-choreographed design attack. More time spent in this phase results in a greater chance of success. The goal is to keep stakeholders updated and on the same page throughout the design process.
Design




Results
Since launching the new site, Dhar Law has seen a significant jump in traffic and increased leads. Visitors to the site come away understanding that Dhar Law is friendly and approachable and good at what they do. Vikas was able to align the website with his vision for the firm and create a memorable first impression. Collaborating with Vikas and Qlegal was a joy. In the end, we produced a high-powered, easy-to-maintain, lead-generating beast of a website. Most importantly, Vikas' valuable time is better spent focusing on his clients.



Before

After


About Dhar Law
Heading up the firm, Vikas Dhar is widely recognized as a leader in the New England legal community. An accomplished business litigator and a "Top 40 Under 40" criminal defense attorney, he has also been honored as a New England Super Lawyer/Rising Star in the area of White-Collar Criminal Defense for each of the past six years by Boston Magazine.