Having recently raised $11million in Venture financing, food production startup Culture Fresh Foods, was looking to fill a production void in the rising plant-based market where retailers are challenged to meet demand.
---
Roles
Design, Development
Website
---
Renovating the former YoCrunch facility to produce non-dairy, plant-based products that include yogurts, milks, butters, spreads, and protein beverages was top of mind. As an experienced entrepreneur, Thomas Moffit needed to redesign the company's website as part of a comprehensive business strategy. The site was basic and didn't represent the trajectory of the company. The information was sparse and difficult to update. It wasn't clear that they manufacture these products for private-label companies.
After contacting the SEO experts at Qlegal, I was brought into the project to help flesh out the vision for the site. We kicked the project off with a series of discussions that informed me of the scale and quality of the new facility as well as the breadth of their capabilities. They can produce and store a lot of products.
The company is fun and energetic and the website needed to be a reflection of that. We wanted to make the homepage a celebration of the raw materials from which these delicious products are made. The almonds, cashews, oats and coconuts would float about the homepage guiding the user down the page. Organic shapes would flow onto the page. A green based color palette helps resonate a sense of freshness. We wanted the viewer to feel like they are in a state-of-the-art food manufacturing facility. The site would be easy to update and display accurate information. And that's exactly what we created.
Design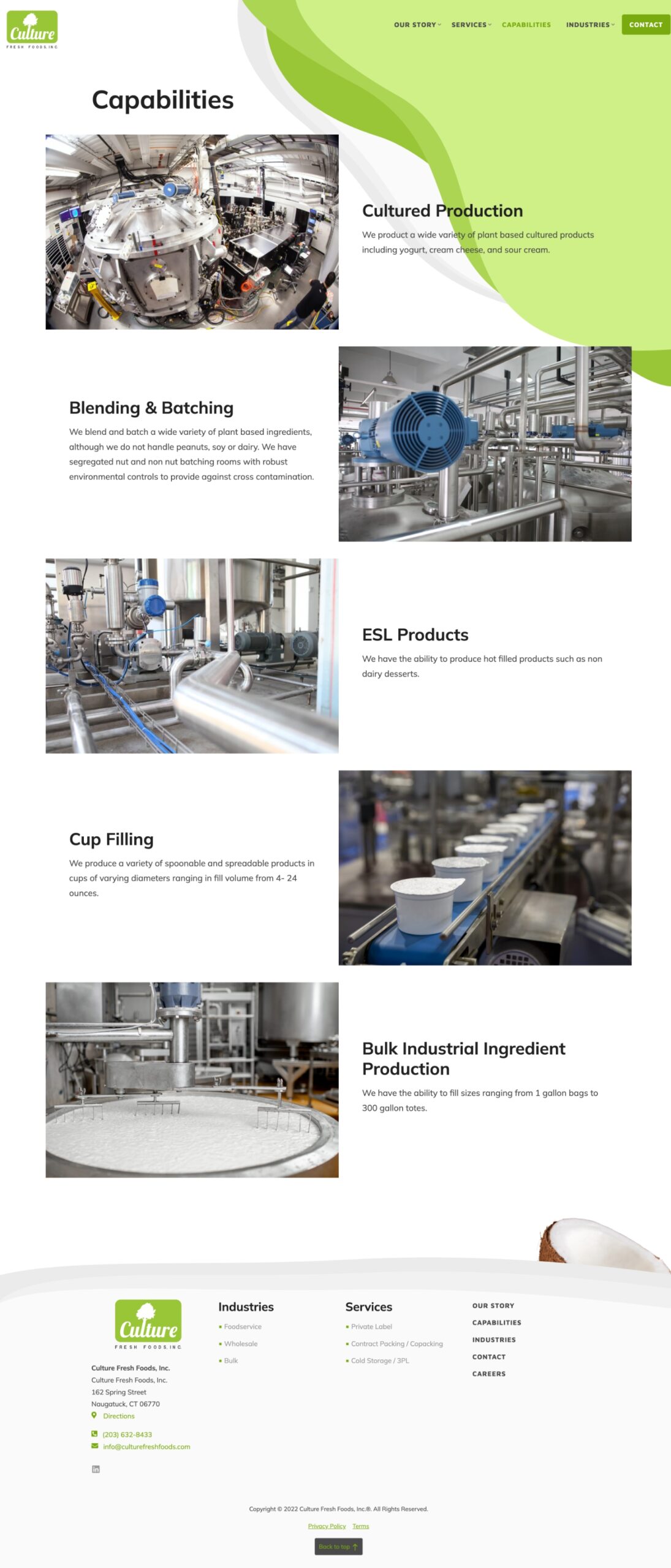 Results
The new site is fresh and inviting and compliments the Culture Fresh Foods brand. I had lots of fun designing and developing this one and I take pride in providing CFF with a site that will leave a lasting impression. They now have a site that can scale with their business strategy.
About Culture Fresh Foods
Culture Fresh Foods works with a wide variety of local, national, and global suppliers to produce plant-based foods that appeal to a wide consumer audience. They combine the healthful goodness of ingredients like oats, nuts, coconuts, beans and seeds into creative formulations that meet your customers' needs for healthy, convenient and tasty foods. They love creating new things and taking care of our customers!